It's been so long since my last post. So here it goes, a new outfit post. It was a fine saturday, and I was strolling around the city with a friend. We went to the new Westfield mall here in the mid city of sydney, I gotta say that.. I LOVE THIS MALL VERY MUCH. It's not that I'm being over rated or what, and yes, I've seen many more mall better than this out there, but.. the other mall here in Australia are like 'yeah, fine, okay', but this one, NICE. When we enter the mall, it's like we got those kind of 'Asian Feel', the shops, the atmosphere. Christian Louboutin, Miu Miu, Bottega Venetta, etc will open their store here, soon. Can't wait!
Then we found this beautiful garden near Darling harbour bridge, and.. snap snap snap. Have a great day everyone! x
Forever 21 tank, Supre printed harem pants, Wittner purple pumps, Rayban aviator, Sally Koeswanto spiked clutch
When I was sitting like this, people were starring at me like 'what the.. what are you doing?' but.. who cares??LOL
Look at the height! Love.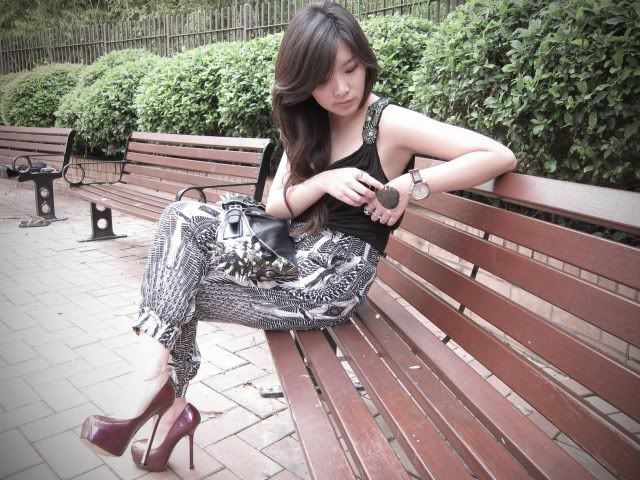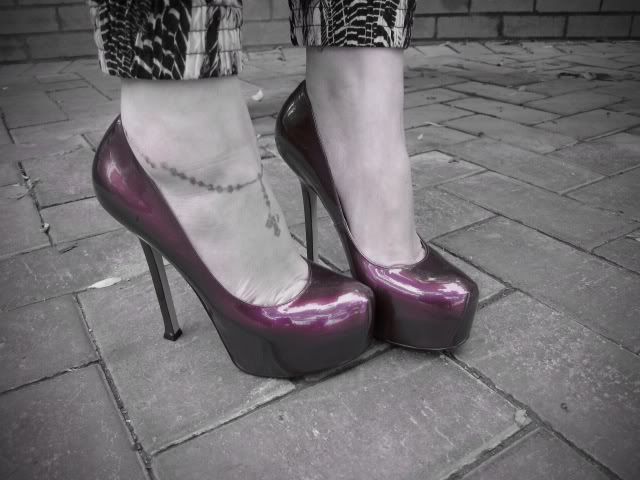 Because nothing in fashion is permanent so why should tattoos be?
Speaking of the shoes..what does it remind you of? Yes! The YSL Tribtoos. I got the Cheap version, but not bad, yes? Got it from one of the Australian brand,
Wittner
.

and oh! I'm eyeing these Lanvin for H&M shoes.. hope I could score one of those. PLEASE :(
Leopard print or dazzling red?